A selection of Afternoon Tea Gift Boxes,
with prices starting from £15.
Each box is wrapped with a pretty bow and contains a napkin and disposable cutlery.
A gift card can be added if required.
Deliveries on Fri, Sat or Sunday.
Please contact us for full menu details.
A selection a dainty finger sandwiches and tea party treats for each guest to enjoy.
A selection a dainty finger sandwiches, delicious chocolate treats and a sachet of creamy hot chocolate with marshmallows.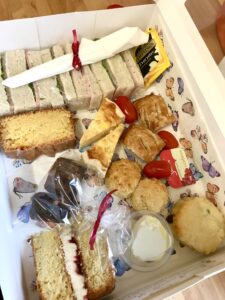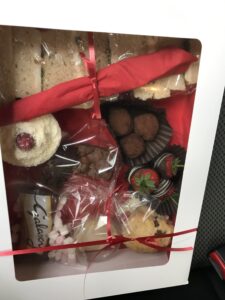 Hearts & Flowers Gift Box £30
A very special sharing box filled with delightful sweet and savoury treats for two guests to enjoy. Perfect for anniversaries, birthdays or just to say "I love you".
Gentleman's Afternoon Tea Gift Box £18
A selection of sweet and savoury treats based on olde fashioned favourites.  Perfect for birthdays.
Butterfly Garden Tea Parties – Gift Vouchers are available in amounts of £10. Vouchers are valid for 12 months from the date of issue. 10% discount for £50 bought in one purchase. Please contact us for further details.